Laurence Miles, 1862 – 1945
by Brian Stevenson
last updated April, 2012
This microscopist is perhaps best known for who he is not, since his microscope slides carry labels and monogram that resemble those of the better-known Arthur Cottam. In addition to their apparent patronizing of the same printer, Miles and Cottam were colleagues, with Cottam referring in print to Miles as "my friend". The vast majority of Miles' known microscopical mounts are of diatoms (Figures 1, 2 and 3). A jeweler and machinist by trade, Miles was seriously involved with amateur microscopy during the last decade of the 19th century, joining both the Royal Microscopical Society and the Quekett Microscopical Club. His interest seems to have waned shortly after the turn of the 20th century, so his slides can be fairly confidently dated to the 1890s through early in the first decade of the 1900s.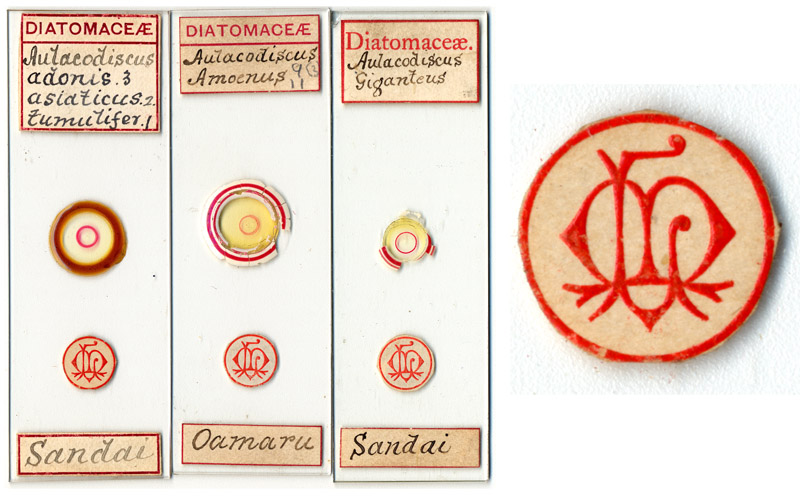 Figure 1. Three microscope slides produced by Laurence Miles, and an enlargement of his monogram. Almost all known Miles mounts are of diatoms. On the May 15, 1896 meeting of the Quekett Microscopical Club,"Mr. Miles exhibited specimens of Aulacodisci from Sendai, in Japan, one of which, A. giganteus, was in almost perfect condition, which is rarely the case". The two slides of Sendai diatoms may date from that display.
&nbsp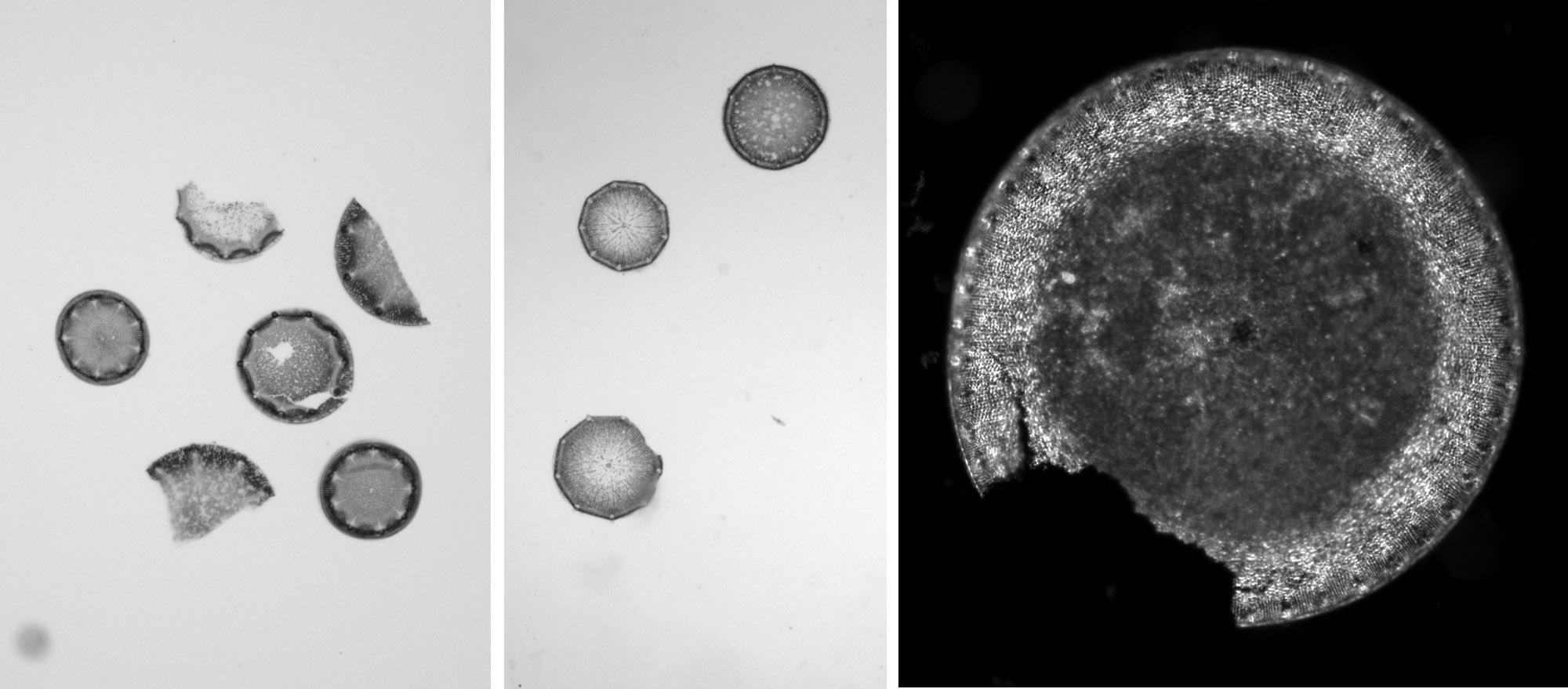 Figure 2. Photomicrographs of the specimens on the slides shown in Figure 1. Few of the diatom frustules are perfect, and would be of interest only to someone serious about studying diatom structure. The inartistic arrangements also highlight that Miles was not a professional, money-making slide maker. From left to right: Aulacodiscus adonis, asiaticus and tumulfer (I do not know which of the six frustules are each of the three species), brightfield with a 4x objective; A. amoenus, brightfield with a 4x objective; and A. giganteus, darkfield with a 10x objective. All fields are shown at the same relative magnification. Photographed using a Retiga 2000R Fast 1394 with QCapture Pro software.
&nbsp

Figure 3. A very uncommon non-diatom slide by Laurence Miles.
&nbsp


Figure 4. Laurence Miles' signature from the 1911 English census. Historical records spell his first name both "Laurence" and "Lawrence". This document indicates that he spelled his name with a "u".
&nbsp
Laurence Miles was born near London on May 26, 1862, the second child and eldest son of Henry T. and Anne Miles. He was christened on June 14 at the neighborhood parish church of St. James Westminster. Laurence was named after his grandmother, Augusta Laurence, a grain merchant, while his elder sister was named Augusta. Henry probably benefitted from his mother-in-law's estate, going from being a "pawn broker" who lived with his wife's mother in 1861, to a "jeweler" who owned the house next door, in 1871. Henry then lived at 17 Piccadilly, St. James, with Anne and 5 of their 7 children, plus two servants and Henry's assistant. Eight year-old Laurence was then at a boarding school in Brighton.
On the 1881 census, Laurence Miles was recorded as being a "watchmakers finisher". He lived at 17 Piccadilly with two lodgers (a retired Major General and a retired civil service barrister, both of whom had served in India), plus two servants. His father and siblings lived in Finsbury. Father Henry appears to have re-married between 1871 and 1881, as his wife in 1881 was listed as 27 year-old Ellen Miles.
Laurence married Annie Mary Simpson during early 1886. The 1891 census recorded them at 59 St. Dunstan's Road, Fulham, London. Laurence was then a "novelty and clock manager".
The earliest record I located of Laurence Miles' interest in microscopy is his May 18, 1894 election to the Quekett Microscopical Club. The following year, he was elected to be a Fellow of the Royal Microscopical Society. Miles does not appear to have been much more than a bystander in either group, as only one occasion is known on which he made a presentation. At the May 15, 1896 Ordinary Meeting of the Quekett Microscopical Club, "Mr. Miles exhibited a specimen of Aulacodiscus gigas from the Sendai, the first perfect one he had yet seen". The American Monthly Microscopical Journal reported on that meeting, "Mr. Miles exhibited specimens of Aulacodisci from Sendai, in Japan, one of which, A. giganteus, was in almost perfect condition, which is rarely the case". Two of the three slides shown in Figures 1 and 2, above, are of Aulacodiscus spp. diatoms from Sendai. Brian Bracegirdle's Microscopical Mounts and Mounters illustrates a Miles mount of Aulacodiscus tumulifer from Sendai (plate 40-N). Those slides were probably from Miles' 1896 display, or made afterward for colleagues who appreciated his exhibit.
The Miles family lived at St. Dunstan's Road through at least 1897, and moved to Ealing by 1899.
Arthur Cottam, although probably best known for his diatom slides, had a broad interest in the sciences. On August 7, 1899, he wrote to The Entomologist "Stauropus Fagi At Watford And Ealing. - On July 6th a fine fresh male specimen of this species flew into my dressing-room, attracted by the incandescent gas-light. The following night another came to the window, which happened to be shut, and before I could open it the insect flew off; but I had a good view of it before it went. I am not aware that this moth has been taken in this district previously. My friend Mr. Laurence Miles, of Ealing, had one brought to him by a policeman, who took it off one of the electric (arc) lamps there. Not knowing that the insect was a rare one, he took no note of the date. - Arthur Cottam; Eldercroft, Watford".
The 1901 membership list of the Quekett Microscopical Club no longer recorded Laurence Miles as being a member. That year's census showed the Miles family back in London, residing at 162 Finborough Road, Kensington. Laurence still worked as a "jeweler", and wife Annie worked as an "obstetric nurse".
A 1903 report in the Journal of the Quekett Microscopical Club noted that Laurence Miles had donated 5 slides to the Club. Whether those were recent donations, or date back to Miles' active period of the late 1890s, is not known. "The Cabinet has received the most assiduous attention from the Curator, who reports that over 1,000 slides have been issued during the year. A classified catalogue of the zoological specimens, some 1800 in number, has been drawn up, and this the Committee considered advisable to print. As, however, it is double the size of any of the previous lists, the selling price has been fixed at one shilling, which only just covers the cost. Being based on the lines of modern classification, it should be useful to many beyond the mere purpose of showing what specimens are actually in the Club's possession at the moment; and your Committee trust that an extensive sale of this catalogue will justify the rather large outlay upon it. Some slight alteration has been made in the conditions of loan of specimens, and this is printed inside the cover of the new list. Altogether 412 slides have been added to the collection since the last report, the most noteworthy being Mr. Mottram's munificent donation of 300 'Hamilton Smith' diatoms, and a further set of 54 slides of 'type' Rotifers from Mr. Rousselet. The complete list is as follows: Mr. Dennis (6), Mr. W. Harris (2), Mr. Miles (5), Mr. Mottram (300), Mr. Nelson (1), Mr. Pound (4), Mr. Rousselet (54), Mr. Scourfield (18), Mr. Sidwell (16), Mr. Wesche (6). Mr. Sidwell wishes it to be made known that anatomical sections prepared by modern methods, and slides illustrating pond life, are amongst the chief desiderata".
During the first decade of the 20th century, Miles took up a new occupation, in the burgeoning motor industry. For some time prior to 1907, he was a partner in Scott, Stirling & Co., manufactures of omnibuses, commercial vehicles and motor boats. The company was based in Strawberry Vale, Twickenham. In 1907, the company was taken over, and became The Scott-Stirling Motor Company, with Messrs. Miles, Scott and Stirling retained as directors.
Miles was a member of the management committee for the Olympia Industrial Vehicle Show, held in London during March, 1907.
A tidbit published in the February 6, 1908 issue of The Commercial Motor declared, "I ran across Mr. Lawrence Miles, of the Scott-Stirling Company, during last week, and was quite glad to know that business is stirring. The company is doing quite a nice trade with South America, and will have its latest designs at Olympia, in March".
The 1911 England census recorded the Miles family as living in Coventry, Warwickshire. In that year, the motor and metal industries employed over half the working population of Coventry. Laurence was recorded as a "technical assistant" in "motorcar engineering". His son, Laurence G. Miles, was a "motor demonstrator".
Laurence Miles was probably the man of that name and appropriate age who died in early winter, 1945, in Manchester.
&nbsp
Acknowledgement
My thanks to Howard Lynk for sharing information on the work of Mr. Miles.
&nbsp
Resources
American Monthly Microscopical Journal (1896) Microscopical Societies - Quekett Microscopical Club, Vol. 17, page 225
Bracegirdle, Brian (1998) Microscopical Mounts and Mounters, Quekett Microscopical Club, London, page 184, plate 40-N
Cases Decided in the Court of Session (1908) Stagg & Robson vs. Scott, Stirling & Co., pages 675-676
Christening record of Laurence Miles (1862) accessed through familysearch.org
The Commercial Motor (1907) A new registration (The Scott-Stirling Motor Company, Limited), Vol. 6, page 495
The Commercial Motor (1908) Out and home, Vol. 5, page 274
Cottam, Arthur (1899) Stauropus fagi at Watford and Ealing, The Entomologist, Vol. 32, pages 237-238
England census, birth, marriage and death records, accessed through ancestry.co.uk
Journal of the Quekett Microscopical Club (1894) May 18 Ordinary Meeting (election of Laurence Miles), Second series, Vol., 5, page 469
Journal of the Quekett Microscopical Club (1896) May 15 Ordinary Meeting, Second series, Vol., 6, page 295
Journal of the Quekett Microscopical Club (1897) List of members, Second series, Vol. 6, page xii
Journal of the Quekett Microscopical Club (1899) List of members, Second series, Vol. 7, page xii
Journal of the Quekett Microscopical Club (1901) List of members, Second series, Vol. 8
Journal of the Quekett Microscopical Club (1903) Second series, Vol. 8, page 298
Journal of the Royal Microscopical Society (1895) New fellows (election of Laurence Miles), page 500
Motor Traction (1907) The Olympia Industrial Vehicle Show, Vol. 4, page 128
Thoms, David and Tom Donnelly (2000) The Coventry Motor Industry, Ashgate, Farnham, UK